Retail/Office/Warehouse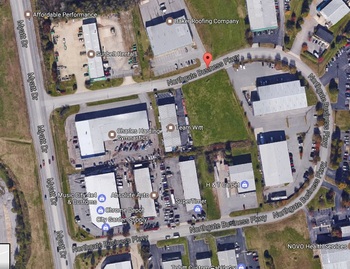 Features
1200 Bldg.- Warehouse with office space
| Unit | Type | Sq. Feet | Lease Rate | Availability |
| --- | --- | --- | --- | --- |
| A |  Office/Retail  | 2500 sq. ft. | varies | no |
| B |  Warehouse/Retail  |   | varies | no |
1228 Bldg.- Warehouse with office space
| Unit | Type | Sq. Feet | Lease Rate | Availability |
| --- | --- | --- | --- | --- |
| #1,2 | Warehouse w/ office space | 2000 sq. ft. total | varies | no |
| #3 | Warehouse w/ office space | 1000 sq. ft. total | varies | no |
| #4 | Warehouse | 1000 sq. ft. total | varies | no |
| #5 | Warehouse | 1000 sq. ft. total | varies | no |
| #6 | Warehouse w/ office space | 2,000 sq.ft. total | varies | no |
| #7 | Warehouse w/ office space | 2,000 sq.ft. total | varies | Yes |
1232 Bldg.- Warehouse with office space
| Unit | Type | Sq. Feet | Lease Rate | Availability |
| --- | --- | --- | --- | --- |
| #1 | Warehouse | 1,000 sq. ft. total | varies | no |
| #2 | Warehouse w/ office space | 1,000 sq. ft. total | varies | no |
| #3 | Warehouse | 2,000 sq. ft. total | varies | no |
| #4 | Warehouse | 2,000 sq.ft. total | varies | no |
| #5 | Warehouse w/ office space | 3,000 sq. ft. total | varies | Yes |
1236 Bldg.- Retail/Office/Storage
| Unit | Type | Sq. Feet | Lease Rate | Availability |
| --- | --- | --- | --- | --- |
| A1,B2 | Retail/Office/Warehouse | 2,300 sq. ft. total | $1630 per month | no |
| C3,D4 | Retail/Office/Warehouse | 2,500 sq. ft. total | $1772 per month | no |
| E5 | Retail/Office | 1,250 sq. ft. total | varies | no |
| F6 | Warehouse | 1,250 sq.ft. total | varies | no |
| G7,H8 | Retail/Office/Warehouse | 2,500 sq. ft. total | varies | no |
| I9 | Retail/Office | 1,250 sq. ft. total | varies | no |
| J10 | Warehouse | 1,250 sq. ft. total | varies | no |
| K11-L12  | Retail/Office/Warehouse | 2,500 sq.ft. total | varies | Yes |
| M13-P16 | Retail/Office/Warehouse | 4,300 sq. ft. total | $3047 pe rmonth | no |
1249 Bldg.- Retail/Office/Warehouse
| Unit | Type | Sq. Feet | Lease Rate | Availability |
| --- | --- | --- | --- | --- |
| #1 | Warehouse | 1,250 sq. ft. total | varies | no |
| #2 | Retail/Office | 1,000 sq. ft. total | varies | no |
| #3 | Retail/Office | 1,250 sq. ft. total | varies | no |
| #4 | Retail/Office | 1,250 sq.ft. total | varies | yes |
| #5,6 | Retail/Office/Warehouse | 2,930 sq. ft. total | varies | no |
| #7,8 | Retail/Office/Warehouse | 2,500 sq.ft. total | varies | no |
| #9 | Warehouse | 1,250 sq. ft. total | varies | no |
| #10 | Retail/Office | 1,250 sq.ft. total | varies | no |
| #11,12 | Retail/Office/Warehouse | 2,500 sq.ft. total | varies | no |
| #13-16 | Retail/Office/Warehouse | 4,400 sq. ft. total | varies | no |
Use Zone:
Office/Retail/Storage/Warehouse
Lease Rate:
Varies per month
Available SF:
1,250/ 1,250/ 1,250/ 2,000/ 2,000/2,500/ 2,500/4,400
Pictures & Files
Click on thumbnails or picture titles to see enlargements.
Information Sheets
Click on titles to see documents.
All information is from sources deemed reliable. No representation is made as to its accuracy and it is provided subject to errors, omissions, prior sale or leave, or withdrawal without notice.